The two-part system, obviously, consists out of two separate part: an absorbing diaper and a separate waterproof cover. The absorbing part kan be a fitted diaper (shaped like a disposable) of a diaper that you have to fold into shape, called a flat.

The diaper
A fitted diaper has the well-known diapershape and is fastened around your baby with snaps or velcro.
A flat is a cloth (like a prefold of a muslin square) that has to be folded into a shape that can serve as a diaper. This sounds complicated, but it is rather simple once you get the hang of it. One big advantage of flats is that they make very economical diaper solutions.
Both the fitted diaper as the flat is very absorbant, but not waterproof. Which is why they need a separate waterproof cover.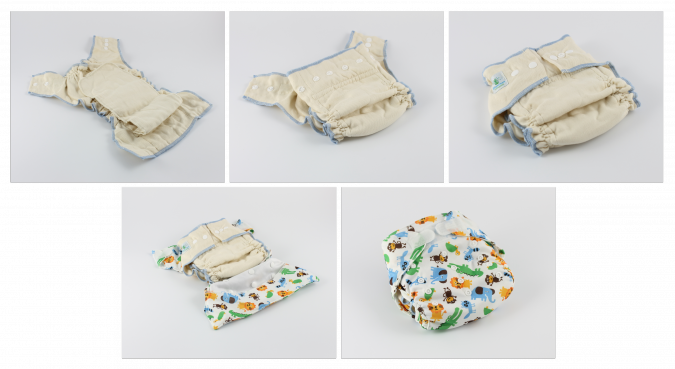 An example of a two-part system: a fitted diaper with a separate, waterproof cover
Waterproof cover
As the diapers of a two-part system are not waterproof, they need a separate waterproof cover to make sure the moisture stays inside the diaper. There are different types of waterproof covers. The two main variants are those made out of PUL and those made out of wool
The most commonly used waterproof covers are those with a layer of PUL. PUL (PolyUrethaneLaminate) is a coating that is waterproof, but still breathable. This makes sure that the moisture stays inside the cover, but it doesn't scald. Because of this, the temperature in the diaper will not rise too much and air can still circulate.
Waterproof covers have the same shape as a fitted diaper and can be put over the absorbant part of the diaper. You close them around your baby with velcro of snaps.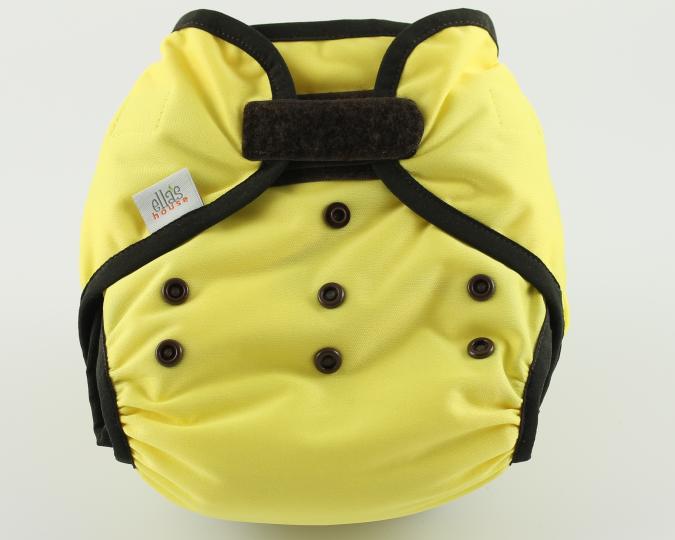 Example of a waterproof cover, OneSize
Another type of waterproof cover is one made out of wool. These woolen pants are knitted in such a way that they will become waterproof when you treat them with lanolin (woolfat). The good thing about woolen covers is that they are skin-friendly, self-cleansing and very leakproof. This is why they are often used to keep your baby dry during the night.
To make a woolen cover waterproof, you need to treat it with lanolin. This is rather simple: you put the cover in a bucket with water and lanolin. Lanolin is naturally dirt-resisting, which means that these covers only need to be washed and treated every few weeks, or when they are pooped on. In the meantime, just air them in front of a window and all the smell will disappear.
Wool covers are pull-up pants, which are put on just like underwear.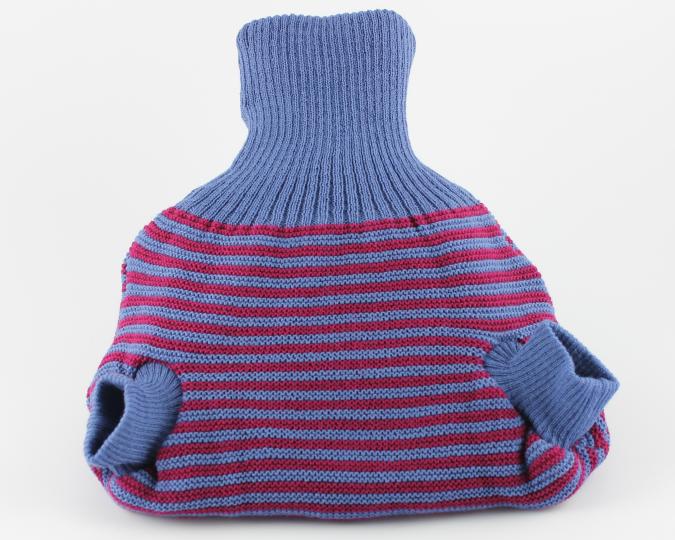 Example of a woolen cover